T.J. Jackson Mysteries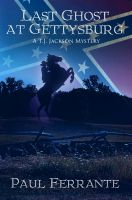 Last Ghost at Gettysburg: A T.J. Jackson Mystery
High school freshman T.J. Jackson thinks his summer will be a drag when his widowed dad dumps him off for a vacation with his Uncle Mike, a park ranger at the Gettysburg National Battlefield, Aunt Terri, and his geeky adopted cousin LouAnne. But T.J. is in for a few surprises. A ghostly Confederate cavalier has been terrorizing nightly visitors to the battlefield....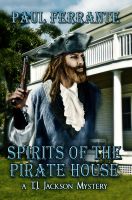 Spirits of the Pirate House
Even Paradise has a Dark Side... During their first adventure in Gettysburg, T.J., LouAnne and Bortnicker established themselves as talented ghost hunters. So when The Adventure Channel gives them an opportunity to visit the island of Bermuda to film the pilot episode of Junior Gonzo Ghost Chasers, they can't resist. What could be better than scuba diving, sightseeing, and ghost hunting for....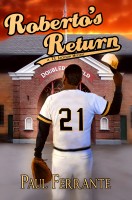 Roberto's Return
Something's Wrong in the Birthplace of Baseball. In life, he was one of the all-time greats, a trailblazing icon who played the game with unmatched passion and style. In death, his mystique only grew, the circumstances of his demise shrouded in controversy and myth. When he passed into legend it was believed his like would never be seen again. But now he's come back.