Her vs. Him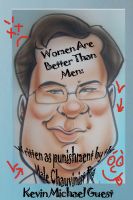 Women are Better Than Men: Written as punishment by the Male Chauvinist Pig
Ladies, have you ever wanted to get back at your husband for his chauvinistic views? Well I have! In the most productive manor (as only a woman could do), I have changed my husbands password to Star Trek Online and forced him to write this book. Laugh at his pathetic views on women; then critique his enlightened mind as he realizes how the female mind and body is superior to the male.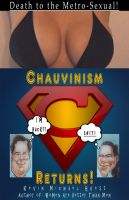 Chauvinism Returns! Death to the Metro-Sexual
Women sexually harass men every damn day and I am here to point it out! Women are sick of the Metro-Sexual, and I am here to call for his death! Football is being sissified and I am calling out the NFL! That's right, a new age of chauvinism is upon the world, and shockingly, its women who are calling for it! Men, it's time to act like MEN AGAIN!