Scepter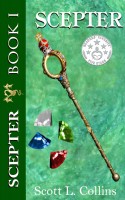 Scepter
For the last three years, Daniel and Aidan have lived with only each other for company since King Argyle's men came and enslaved their parents. When Argyle's mercenaries come to take Daniel, Aidan uses his little-known gift to fight off the gathering party. What begins as a fight to save one boy unexpectedly turns into a war that may affect the existence of the kingdom itself.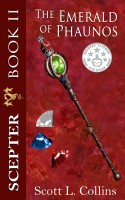 The Emerald of Phaunos
Argyle has taken control of Castiglias, forced many of its citizens into slavery, and cast the others out into the wild. AND he's destroyed the Scepter of Harmony. Daniel now holds the stoneless Scepter as his bitter reward for saving the fairy settlement. Daniel, Aidan, Olivia, and Lilly now must set out to take back the Emerald of Phaunos, but can they do it before the diegylis destroy them?