Career Corner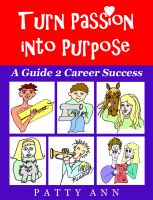 Turn Passion into Purpose: A Guide 2 Career Success
This guide is geared for teens through adults who are searching or reinventing a career path for themselves. Topics are simple to understand. Reading format is easy with highlights and quick tips. Completely self guided this book offers assessments to define your skills and interest for targeting a job fit for you. This book was written from a recruiter's perception, so advice is insightful.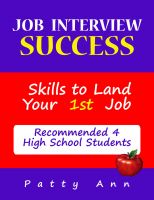 Job Interview Success: Skills to Land Your 1st Job
First time job hunters will appreciate this book's timely pointers and quick tips for preparing for an in-person job interview. Timely advice is targeted for success. Written for the high school student entering the work force for their first time, it is also a great refresher for the veteran job seeker. Important to note, this guide offers the unique perspective from a recruiter's standpoint.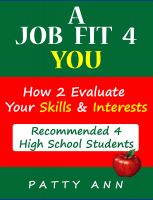 A Job Fit 4 YOU! How 2 Evaluate Your Skills & Interests
A JOB FIT 4 YOU is a quick guide that will help you to evaluate your skills AND interests when targeting a career. Included is a unique critique at how work environments determine on the job success. Suitable job placement is typically measured by natural abilities, tolerances, and experience. This guide will easily walk you through the steps in finding a career fit for you!