Savannah Shadows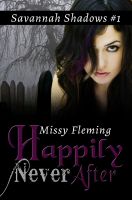 Happily Never After
Savannah Shadows Book 1 Savannah, Georgia is rumored to be the most haunted place in America. Quinn Roberts knows it is. She's felt the presence of spirits her entire life, investigating and photographing them with her best friend. Only none of those encounters ever turned violent, until now. The menacing darkness feeding off her stepmother has promised she won't live to see her eighteenth bday.
A Strange There After
Ghosts exist. Quinn Roberts knows this because she is one - kind of. The spirit of a dysfunctional ancestor, Catherine, has evicted Quinn from her own body, forcing her to live in a world with the paranormal. No one can see, touch or hear her, except the ghosts she grew up with and the bane of her existence, a self-centered paranormal investigator named Boone.