Quick, Smart, EZ, & Aware AND Apt, Tie-and-Wrap (Trap), and Scrap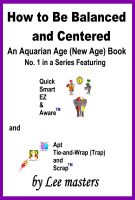 How To Be Balanced And Centered
If life is chaotic, then obviously we are living in an out-of-balance state. It is possible to be centered and for life to be well-managed. A centered person develops relationships that are positive, nurturing, and sustaining and manages life effectively. Lee masters uses simple graphics to illustrate our emotional, mental, physical, and spiritual selves and how to become balanced and centered.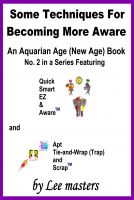 Some Techniques For Becoming More Aware
The purpose of an Earth life is to learn, grow, and develop our spiritual senses. We do this through opening the seven invisible energy vortices called the chakras. This book describes specific techniques that can be used in our journey to consciousness expansion or more awareness.