The Sinclair V-Logs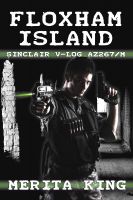 Floxham Island ~ Sinclair V-Log AZ267/M
Sam Sinclair thought this was just another run of the mill job. When his law enforcement contacts asked him to find Professor Nembier who they believed had murdered nine of his co workers out on a secluded archaeological dig on Agrillia 3, he fully expected to have the job done quickly. Finding the Professor was the easy part and was to become the beginning of a terrible nightmare.
Bygora Vandos ~ Sinclair V-Log LB734/A
Sam Sinclair, Freelance Law Enforcer with the Inter-Galactic Law Enforcement Agency, takes an undercover job on Deligon 2, where he must find out what is really going on at the Calmarin Research Station. Sam and his new partner Ren, must uncover the secrets and find the truth amongst the lies, before the explosive and shocking climax claims another life.