Jay-Pea-Eyes aka Junior Private Investigators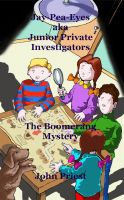 Jay-Pea-Eyes aka Junior Private Investigators
The Boomerang Mystery is just the right case for the Junior Private Investigators or Jay-Pea-Eyes (J.P.I.'s) to sink their teeth into. Such a strange and unusual set of circumstances have left the local police baffled. Can these young detectives solve the mystery before the police? Will they find out who is behind the mystery or are they just getting themselves further and further into danger?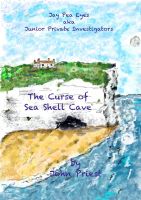 The Curse of Sea Shell Cave
Things have changed dramatically at the Portsmouth Pelican Hotel. The golden sandy beach is now a repulsive green colour and believed to be toxic. The beach is cordoned off by the council and is now out of bounds, together with Sea Shell Cave. The hotel is deserted and the distraught owner thinks the whole place is cursed. The JPIs are not so easily convinced and start searching for answers.