Twincy Quinn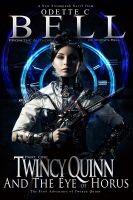 Twincy Quinn and the Eye of Horus Part One
Along the dirty, dark rooftops of 19th century London, she runs. Young, poor, and half machine, Twincy Quinn is suitable. Ordinarily a fine word, in this new era of spinning cogs, glowing lights, and machines, it is not.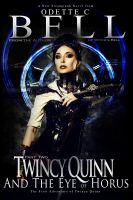 Twincy Quinn and the Eye of Horus Part Two
Their home lies ruined, yet they have not given up. Twincy, Michael, and the children continue to fight Esquire without pause. As the dust settles, Michael finds himself thrust into this strangest of adventures. He also finds his heart growing in fondness for Twincy with every second, every minute, and every hour.