Twitter Who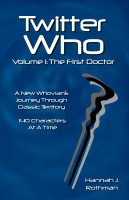 Twitter Who Volume 1: The First Doctor
In this first volume of Twitter Who, Hannah J. Rothman takes on the complete William Hartnell era of Doctor Who (1963-1966) armed only with her trusty Twitter account and a fresh eye on old adventures. It's a New Whovian's journey through Classic territory, 140 characters at a time.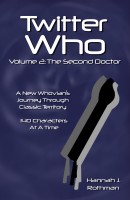 Twitter Who Volume 2: The Second Doctor
Whofolk, you are hereby invited back to epic quest of one lone fan traversing the vast realm of Classic Who through the eyes of a New Whovian. Bursting from the pages of Outside In, Hannah J. Rothman returns to the '60s as she Tweets and commentates her way through the complete Patrick Troughton era of Doctor Who, reconstructions and all.