Learn Skills to Keep the Devil in His Place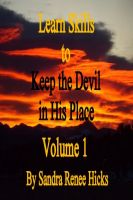 Learn Skills to Keep the Devil in His Place - Volume 1
Why are so many folks who profess Christ as Lord afraid of the devil? Largely, it's due to lack of knowledge. God is never afraid of Satan. Certainly, our Lord expects His children to triumph over the devil and his perverted evil practices. It's not our place to cower from the tactics of our enemy. One of our main assignments is to learn from God how to keep the devil in his place.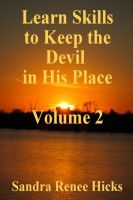 Volume 2 - Learn Skills to Keep the Devil in His Place
The Holy Scriptures inform that those who steadfastly abide in GOD are given power and authority over all devils. When we occupy in our whole armor of GOD postures, we are mighty through GOD to root out, dismantle, subdue and destroy the works of the devil. We can steadfastly be FULLY equipped to do major and lasting damage to the diabolical agenda of Satan.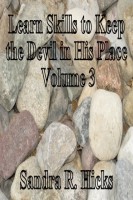 Learn Skills to Keep the Devil in His Place - Volume 3
This Volume 3 continues with more skills to bolster spirits and to share of more victorious levels of awareness. I invite you to journey in this content to be strengthened, encouraged and inspired by my transition treasures. It's a pleasure to share this Volume 3 with you; my firm belief is that your confidence level will increase and be lifted to higher dimensions.