Vampire Valley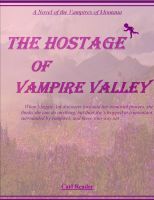 The Hostage of Vampire Valley
Forced to move to Montana with her parents' murderers, half-mad Maggie climbs the walls of her home at night, only to discover blood-spitting vampires trapped in vats on her roof. A lover helps her discover her powers, and the two brave severe attacks to save her brother and fly hordes of trapped vampires in vats through fire and smoke to imprisonment in a mountain, only to be trapped themselves.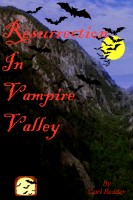 Resurrection In Vampire Valley
Resurrection In Vampire Valley is the long-awaited second volume in the popular Vampire Valley series. It begins where The Hostage of Vampire Valley left off, with Maggie's lover still dead but about to be exhumed by her little brother Tommy after a year of healing resurrection in the grave. Things go wrong with the resurrection, endangering all and sending Maggie after her lover in the grave.