A Terrorist Converts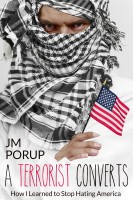 A Terrorist Converts: How I Learned to Stop Hating America
Terrorist Shazam al-War bin al-Gorithm hates America. More bloodthirsty than Osama bin Laden, he's notched his Koran so many times that nothing is left but confetti. When a SEAL team tries to take him out in the mountains of Wakistan, al-War defeats them all--and captures the Navy's first female commando. Their unlikely romance makes him question his hatred of America.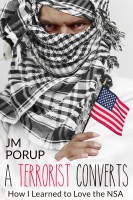 A Terrorist Converts: How I Learned to Love the NSA
Five times a day, retired terrorist Shazam al-War bin al-Gorithm prays to Washington and begs forgiveness. But no answer ever comes. When Special Forces try--and fail--to rescue his wife, Shazam saves the life of a wounded NSA analyst. But is this "analyst" what he seems? Or is he actually an archangel sent down from Washington--with glad tidings of great joy--in answer to Shazam's prayers?