Haunted Crime Scenes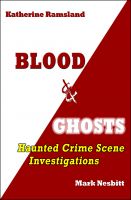 Blood & Ghosts: Haunted Crime Scene Investigations
What if forensic and paranormal investigation deliberately crossed paths? Can forensics aid ghost hunters? Might ghost hunters one day assist in the cause of justice? In "Blood & Ghosts," Katherine Ramsland and Mark Nesbitt examine tales of murder, ghosts and hauntings; police psychics; and scientific experiments in search of the answers to these questions and more!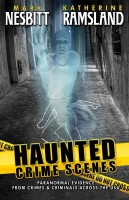 Haunted Crime Scenes: Paranormal Evidence From Crimes & Criminals Across The USA
The second book in the "Haunted Crime Scenes" series. This book focuses on the paranormal phenomena at crime scenes. Forensics expert Katherine Ramsland and paranormal investigator Mark Nesbitt examine murder implements, victims, killers and crime scenes that reportedly have supernatural components. Included are results of their investigations and suggestions for sites they haven't investigated.