God Factor Saga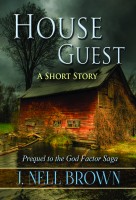 House Guest: A Short Story and Prequel to The God Factor Saga
House Guest is the Prequel to The God Factor Saga, a seven volume E book serial by J. Nell Brown. Every villain has a beginning, and Asher Bushcroft's beginning started the day Adolf Hitler declared war on the United States. Never fear, every villain also has an ending, when he must give an account for his evil deeds before the Almighty.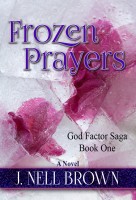 Frozen Prayers
When you sleep at night, your brain lulls into disorganized patterns, but when young Daniela Cavanaugh sleeps, she's stares into the past and future, unlocking ancient mysteries that Yahweh has hidden before He created the universe, mysteries meant to warn His children of a cataclysmic event that will resemble a pandemic. The heart-thumping adventure of The God Factor Saga Serial begins.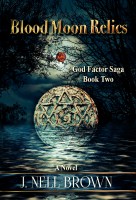 Blood Moon Relics
Succeed, or Earth will be enslaved by a secret society linked to Knights Templar. The blood moons of 2014 and 2015 approach, and time is running out. An ancient mystery surrounding The Ark of the Covenant and a mysterious symbol must be solved by Cillian Finn, a sniper ravaged by unimaginable childhood abuse. He's thrown onto a course that may require his life or the life of his love.