Spaceforce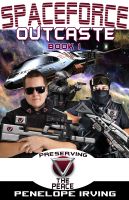 Outcaste
Jay a member of the elite Swordbearer Caste, sworn to serve the Taysan Empire – except that it is all a lie. The son of a blacksmith, Jay used lies, looks and audacity to escape his birth caste. Now, a dangerous woman is about to learn the truth – and even his charm might not be enough to save him. Outcaste is the first book in the Spaceforce space opera novella series.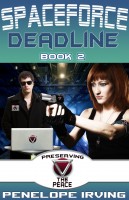 Deadline
In Earth's far future, the fight against crime continues – and Spaceforce is on the front line. New recruit Andri Ferris finds himself thrown in at the deep end when a training mission turns into a desperate race against time. At stake – the life of a Prince and the peace of the Galaxy.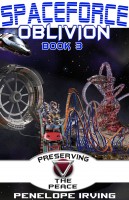 Oblivion
When theme-planet ride designer Karen Chase dies at the opening ceremony of her own latest thrill ride, Spaceforce officers Jez and Andri are sent to investigate. They soon uncover a web of dark secrets lurking behind the shiny facade of Fantasia, the Galaxy's ultimate holiday destination. And the greatest secret of all could end the dream forever.