Hunters Among Us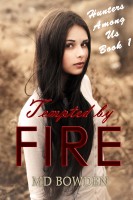 Tempted by Fire (Hunters Among Us, Book 1)
Eighteen year old Erin Lustleigh is just starting university. She has no idea she's about to plunge into a world with werewolves, vampires, ghosts and, of course . . . hunters. Erin's journey is one of heart ache, new experiences and dangerous dilemmas. She finds herself torn between sides, not knowing who to believe, or who to trust.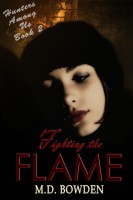 Fighting the Flame (Hunters Among Us, Book 2)
Eighteen year old Erin Lustleigh had planned to have a normal life at university. She had no idea that hiding in London there existed a world of vampires, werewolves and ghosts . . . and that a hunter had his eye on her. Now she knows the truth.