Family Torture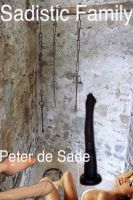 Sadistic Family
The arrival of a book on hypnosis opens the way for Max, an eighteen year old high school student, to join in of the sadistic and masochist sexual escapades of his adoptive parents. Once he hypnotizes his dad he is on a journey into sadistic family sex. This book is nonstop hardcore nasty sex! Not for the faint of heart.
Sadistic
This is the hottest, nastiest story that Peter de Sade has written to date. Only his twisted mind could come up with a story of such torture and nasty sex. This book pushes the limits of what is acceptable. Only the freedom of speech that we enjoy in the USA allows its publication. So be warned, it is hardcore, no holds bared, porno.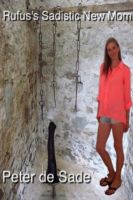 Rufus' Sadistic New Mom
When 18 year old Rufus' adoptive mother sells him to a strange sadistic family, the young boy is plunged into a life of sexual torture and nasty sex. Enchanted by Mrs. Stewarts illusion of beauty, Rufus welcomes the beatings and humiliation she forces upon him and Carrie, Mrs. Stewarts adoptive daughter. Mr. Stewards, a huge ugly man, is his wife's sex slave.