BEYOND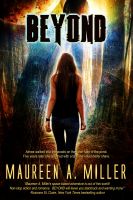 Beyond
Waking to the sound of voices, Aimee Patterson realizes that she has been kidnapped. Little does she know how far away from home she is, though. In an attempt to flee her captors, she launches from their confines only to freeze at the view outside the window. The sky is black and filled with stars, and in the distance is a familiar blue globe. The planet Earth.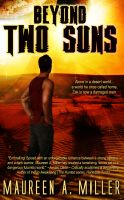 Beyond: Two Suns
Alone in a desert world, Zak is now a damaged man. Reckless in his battle against the creatures that destroyed his family, he roams under the glare of the two suns, seeing phantoms--seeing Aimee. Five years had passed since Aimee Patterson left the man she loved. For five years she traveled the path of life, always waiting and looking to the stars, hoping that one day he would return for her.
Beyond: Three Paths
After spending years in space on an alien ship, Aimee Patterson is finally coming home. But this time she is not alone. Her lover Zak wants to meet her parents, and her friend Raja wants to experience life on Earth. Both get more than they ever bargained for. It was supposed to be an innocent trip to Earth.... now Aimee, Zak, and Raja are fugitives of the ultimate kind.