The Samurai of Hell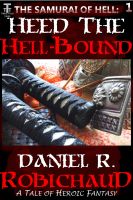 Heed the Hell-Bound: A Tale of the Samurai of Hell
In the ruins north of Ohryu City waits mystic transportation to an unknown world from which no traveler has ever returned. Drawn by the dream summons of a distressed woman, a shamed ronin will descend into a hellish new world overflowing with incredible dangers, thrilling surprises and unfathomable mystery. Here he may find the opportunity to redeem his tarnished honor and find a new master.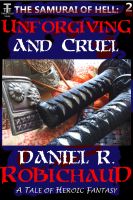 Unforgiving and Cruel: A Tale of the Samurai of Hell
A mysterious crime leaves two boys dead, the fiend responsible lurks in a poisonous bog, and only a samurai of Hell can deliver justice. Daniel R. Robichaud unleashes another heroic fantasy in the Fritz Leiber and Roger Zelazny tradition.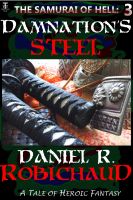 Damnation's Steel: A Tale of the Samurai of Hell
Still sworn to plant the Lord of Hell's station in the heart of an alien world, Haiyu returns for a third adventure. This time, the samurai visits a small community haunted by a crime against their own number. In this world, old wounds fester like boils, and only a man from Hell can put down the results of their monstrous deed. Magic, monsters and might clash in this epic adventure.