Parenting Guides by Salma Bhalla, Ph.D.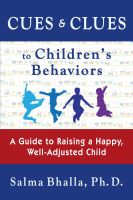 Cues & Clues to Children's Behaviors
This book is a guide to understand a child's behavior cues; strategies to prevent, and intervene when emotional problems arise. It has Chapters on Child Development, Parenting Styles, Anger, Self-Esteem, Anxiety, Stress, Traumatic Stress, Depression, Impact of Divorce, Attention Problems, Effective Parenting, and Cultural Differences in Parenting. The book is written in a jargon free style.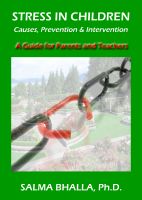 Stress in Children - Causes, Prevention & Intervention A Guide for Parents and Teachers
This is a useful guide for parents, teachers, and caregivers of children about preventing and managing stress in children three-to-thirteen years old. The book gives an insight into causes of stress in children including gifted children, and how children behave at different developmental stages when they are stressed. Practical strategies to prevent and manage stress in children are included.