EVER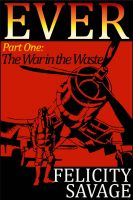 EVER Part One: The War in the Waste
Crispin is a circus kid, working as a daemon handler and aerialist... until an accident on the high wire casts him out into a world even stranger that the circus that nurtured him. Crispin falls headlong into the arms of Rae, an orphan girl of equally exotic origins. And soars in daemon-powered biplanes over the wastelands of the Raw, joining the awesome battle between Ferupe and Kirekune.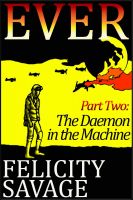 EVER Part Two: The Daemon in the Machine
The epic battle joined in EVER Part One: The War in the Waste continues in the second volume of Felicity Savage's groundbreaking EVER trilogy, The Daemon in the Machine. Kirekune is winning the war in the Wraithwaste, but a Significant victory will have terrible consequences for humans and daemons... and for Crispin, the daemon handler turned trickster who is now stranded behind enemy lines.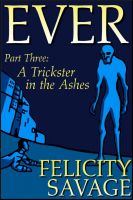 EVER Part Three: A Trickster in the Ashes
The war that divided Oceania is over, and Crispin Kateralbin has achieved wealth and anonymity as a middleman for a drug-smuggling monopolist. On the far side of the continent, Crispin's first lover Rae Akila has joined a cult that worships daemons. And in Okimako, Mickey Ash fights Greater Significance for the right to live. When these three come together again, the world will change