Fromagium Rocks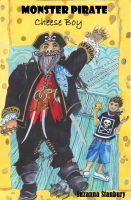 Monster Pirate Cheese Boy
When exploring in his scientist neighbour's workshop, eight year old Alfie Rains eats something he shouldn't. Alfie quickly discovers what he ate reacts with cheese and he transforms into a seven foot pirate with a gold obsession. When the magic fades, the hunt is on again for more cheese so Alfie can rejoin his boisterous pirate crew sailing over storm-tossed seas to plunder treasure.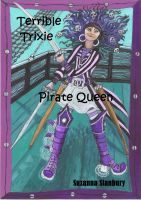 Terrible Trixie Pirate Queen
Cover art by Liz Ascott. Trixie Tracy Buttercup Fleming is a spoilt little girl who is fascinated by the boy next door. Alfie Rains always seems to be having much more fun than her. After an encounter with Alfie, the next thing Trixie knows she's woken up on a ship wearing a fabulous purple outfit, complete with a fine set of cutlasses and a strong urge to go a pirating.