Tales of the Lorekeepers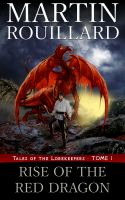 Tales of the Lorekeepers, Tome 1: Rise of the Red Dragon
When Samuel Osmond sees two pairs of mysterious dice in a store for role-playing games, he thinks they'd be fun to show off at a cosplay event. He buys the white pair, leaving their black companions in the case. But when he casts the dice in his room that evening, he suddenly finds himself transported to a strange landscape, surrounded by scarred men in leather armor.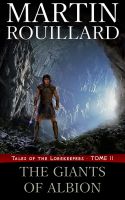 Tales of the Lorekeepers, Tome 2: The Giants of Albion
Just a week has passed since Samuel's first adventure, but already the dice are calling the Lorekeeper back to Metverold. The Yfel's sorcerer aims to destroy another legend, and this time the birth of an empire is at stake. What's more, the sorcerer is not alone. A terrifying and cunning creature accompanies him, and Samuel will have to summon all his powers in order to protect the legend.