Classic Romantic Suspense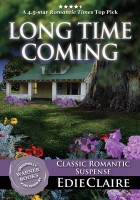 Long Time Coming
4.5-star Romantic Times Top Pick & winner of the Road to Romance Reviewer's Choice Award! Originally published 2003, Warner Books. Housecall veterinarian Joy has avoided her Kentucky hometown for 18 years--ever since her best friend Jenny died tragically days after their senior prom. Now forced back home, Joy must face the frightening--and ghostly--truth behind her carefully veiled memories.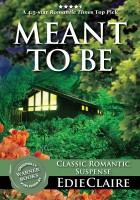 Meant To Be
4.5 Star Romantic Times Top Pick & winner of the Romance Reviews Today Perfect Ten Award! Originally published 2004, Warner Books. After Meara's estranged biological mother whispers a string of confusing words on her deathbed, the adoptee not only inherits half a historic Pennsylvania inn, but is swept into a legacy of love, mystery, and deception that shakes her idea of family to its very core.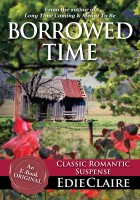 Borrowed Time
New in 2011, Edie Claire's first release since 2004 is written in the style of her acclaimed novels of classic romantic suspense (Long Time Coming and Meant to Be, both 4.5-Star Romantic Times Top Picks). Intelligent, aloof Sarah has sworn to keep the secret of what happened one terrible night when she was only 17. Even if that secret destroys her life... and even if it causes her to lose it.