Hiking, Walking and Biking Nagano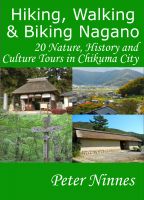 Hiking, Walking and Biking Nagano: 20 Nature, History and Culture Tours in Chikuma City
Seen the big cities and tourist havens of Japan? This detailed guidebook provides you with a new and enchanting way to experience a fascinating part of the country, just 2 hours from Tokyo. Use the detailed English language maps and descriptions to tour the mountains, towns, villages and farms of Chikuma City in rugged Nagano, Japan, and learn many historical and cultural facts along the way.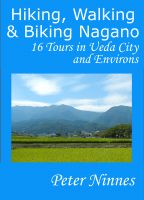 Hiking, Walking and Biking Nagano: 16 Tours in Ueda City and Environs
Ueda City is in the east of Nagano Prefecture, in the center of Honshu Island, Japan. Less than two hours from Tokyo, the area has a wealth of hiking opportunities. Each tour in this book has a detailed English description, colour photographs, and a full-colour map. Even with no Japanese ability, readers will be able to navigate and enjoy these fascinating mountain hikes and historic city walks.