King's Choice
The King's Choice (King's Choice I)
King Jakov of Braluse, is unhappy about being pressured into selecting a wife. With the sixth Red Moon of his reign fast approaching, he has little choice in the matter. When his head advisor, and younger brother, Andrija brings forth a woman with a temper that rivals a King's, he claims her on the spot. That was his first mistake. Ordering her to submit to his sexual desires was the next.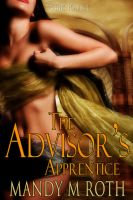 The Advisor's Apprentice (King's Choice II)
Sought as mates because of their magical abilities, the Antistitas priestesses have been hunted almost to extinction by warlords determined to possess them. Teigen has no intention of becoming a possession. Alerted to an attack, the king sends his advisor to search for his wife's sister and bring her to safety. From the moment Andrija captures Teigen, he thinks of nothing but possessing her.