The CEO's Handbook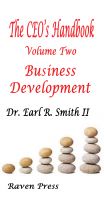 The CEO's Handbook Volume Two Business Development
It doesn't matter what business you are in; business development is one of the toughest challenges you have to meet. Your company's future depends on your team's ability to capture an expanding base of clients. Growth is achieved by driving into new markets - expanding business with existing clients - and avoiding serious mistakes that will harm your company's reputation and future.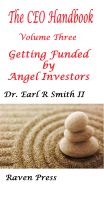 The CEO's Handbook - Volume Three Getting Funded by Angel Investors
I am indebted to those angel investors that I have worked with. Their willingness to talk openly about their mistakes - the opportunities foregone - as well as their successes - has made this book possible. Without that, I would just be writing fictional accounts of a process that I viewed from a non-investor perspective. I dedicate this book to all of them. They are, after all, angels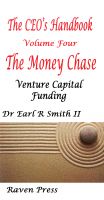 The CEO's Handbook Volume Four - The Money Chase
If the goal is getting funded - as opposed to ineffectively grousing about how unfair the world is and how narrow minded investors are - then founders need to understand the money chase from the investors point of view. Helping you do the latter is one of the major objectives of this book.