My Only Crime Was Being Born, an autobiography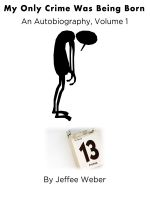 My Only Crime Was Being Born - An Autobiography, Volume 1
I was born on Friday the 13th, the only Friday the 13th incidently, in the year I was born. I have led an interesting life, with many strange, odd incidents. However some good things happened which you see when I show you the wonderful letters my "Pen Pal" from Hong Kong wrote me and finally after six years we got together. I write about school, college baseball, bad jobs with great satire.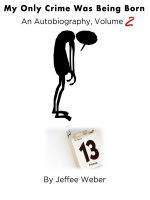 My Only Crime Was Being Born, Volume 2
Volume 2 continues the adventures of Jeffee as he bravely does battle with a world he was never cut out for. Volume 2 focuses mainly on the strange and unusual adventures Jeffee had in the land of work. You will read about many strange (and bad) adventures I had as I entered the work force. The strangest "job" I ever had was my time in the Army starting with getting drafted - amazing!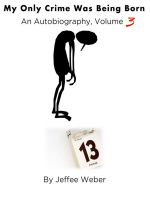 My Only Crime Was Being Born, Vol. 3
Volume 3 of my autobiography continues the misadventures of Jeffee in a world he doesn't belong. Unlike Frodo in Lord of the Rings, Jeffee still hasn't found the Fire of Mordor to destroy the ring...yet. Learn about my Artic adventures in Michigan, about a lot of other crazy, funny, sad stuff, some of my insights into the Bible - it's all there, I lived it all & want to share it with you.