Pilgrim's Paws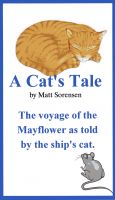 A Cat's Tale
The story of the Mayflower voyage as told by the ship's cat. The story begins as Pilgrims attempt to leave Holland for the Virginia Colony aboard Speedwell, and traces their adventures as they are forced to reduce their numbers and sail aboard Mayflower. Tabatha, ship's cat aboard Speedwell, joins the Mayflower crew and voyages with the Pilgrims to the New World.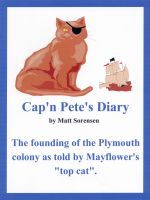 Cap'n Pete's Diary
Cap'n Pete's Diary is a follow up to the story, "A Cat's Tale", which tells of the Mayflower voyage. It describes the Pilgrims' exploration of the Cape Cod area and the establishment of the Massachusetts Bay Colony in the winter of 1620-21.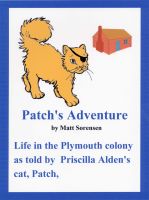 Patch's Adventure
The third in a trilogy of stories about the Mayflower voyage and the establishment of the Plymouth colony. Patch's Adventure tells, from a cat's eye view, how the Pilgrims struggled to maintain friendly relations with their Indian neighbors while being overwhelmed with new settlers, whose main interest was commerical gain from this new land.