Let's Get Publishing
Let's Get Digital: How To Self-Publish, And Why You Should
This guide is packed with essays, articles, and how-to guides, as well as contributions from 33 bestselling indie authors including J Carson Black, Bob Mayer, Victorine Lieske, Mark Edwards, and many more. If you are considering self-publishing, if you need to breathe life into your flagging sales, "Let's Get Digital: How To Self-Publish, And Why You Should" will explain it all.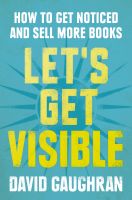 Let's Get Visible: How To Get Noticed And Sell More Books
Take your sales to the next level! The author of the award-winning, bestselling Let's Get Digital is back with an advanced guide for more experienced self-publishers. By using these tips, you will get your book noticed. And getting noticed is the key to growing your sales.