The Windflowers Trilogy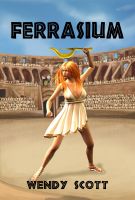 Ferrasium.
Book One, of the Windflowers Trilogy. Murder, mystery and magic in a land reminiscent of Ancient Egypt. "You'll be trained as feminators, to fight death bouts for the priesthood's entertainment. You will never leave these iron-impregnated walls. Welcome to the Ferrasium." How can a small band of pygmies, a tomb robber, and a magically untrained girl compete against the might of the Priesthood?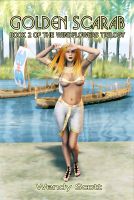 Golden Scarab. Book 2 The Windflowers Trilogy.
A year has passed since Kalli escaped from the Ferrasium, but the High Priest's stranglehold is tightening, his tentacles extending to encompass all of Keymett. As Pharaoh's royal barges sail toward Wasset, the High Priest is poised like an arachnid in his nest. Kalli must unlock the secrets of the Golden Scarab before all of Keymett falls under the High Priest's dominion, but who can she trust?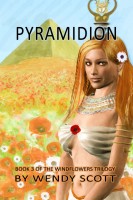 Pyramidion, Book 3 of The Windflowers Trilogy
The thrilling conclusion - The Windflowers Trilogy. The Trillican fleet is poised for invasion, but after fleeing Wasset, Kalli's band is decimated. Sakhir is missing and the tribal hunters have deserted them. Fugitive feminators, thieves, a displaced queen, Pharaoh's disposed heir and two banished pygmies. How do the goddesses expect her to bring down a kingdom? Contains some mature themes.