Thought's of the Day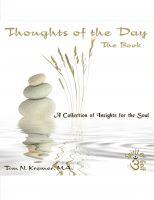 Spirit of Golf -Thoughts of the Day: The Book
The real shift in improving athletic performance, or for that matter any aspect of our lives, comes as we journey into the inner stillness of the unknown. We go beyond the conditioned limitations of a fragile, reactive egoic mind; beyond the stubbornness and fear of what we think we already know. At the point where the unknown becomes our friend, a transformation begins to occur...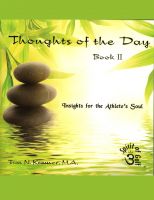 Spirit of Golf -Thoughts of the Day: Book 2
One of the most basic principles in our lives that becomes important to understand is that we cannot have anything until we first imagine it in the mind. This is as true with a golf shot as it is with anything else.It is ultimately how we internally activate an experience through thought and imagination that either brings it closer to us or pushes it further away...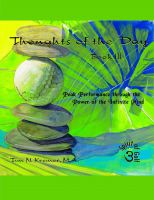 Spirit of Golf -Thoughts of the Day: Book 3
Most golfers talk a great deal about the importance of a solid "mental" game, yet few have the skills in place to remain focused and calm when emotions are running high and performance hits the wall. We remain in a good mood until we hit a few bad shots, only to have negative thoughts and emotions overpower both us and our games.