The Eden Kane Adventures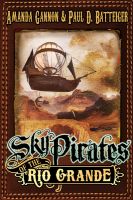 Sky Pirates of the Rio Grande
1867: Genius clerk Eden Kane leaves the Smithsonian's Department of Hazardous Artifacts on a forbidden mission to reclaim the sky pirates' secret Dark Aetheric Transmitter. She frees Zenobia Santiago, ex-bandit and Experimental tiger-woman, to guide her through a West full of criminals, rogue Experimentals, and dinosaurs, and into the secret lair of the Sky Pirates of the Rio Grande. Explicit sex!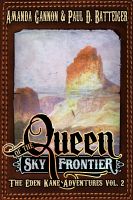 Queen of the Sky Frontier
Prepare for adventure on the wild pirate frontier! Captain Eden Kane's command of the pirate fleet of El Dorado is slipping. On one side is Azrael Dire, untested but bent on avenging her mother's death. On the other, the Rebel Captain Hood's dreadnought warships stand ready to smite the Union. With nothing but courage and her Experimental brain, Eden must fight to remain Queen of the Sky Frontier!