The Strickland Files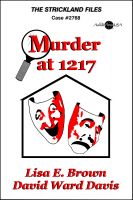 Murder at 1217 - Lisa E. Brown & David Ward Davis
The "Murder at 1217" will keep you awake at night. Someone brutally murdered Mishi Tayanaka, just plain murder wasn't good enough. Set in Music City, – "Murder at 1217', is gruesome and puzzling. Was it a kill for the thrill, or love gone bad? This first book in the Author's "Strickland Files" mystery series, will keep you guessing. Lisa and David get down and dirty with this one...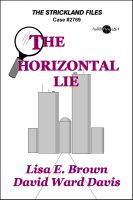 The Horizontal Lie by David Ward Davis - Lisa E. Brown
Murder Mystery fans everywhere are abuzz about The Horizontal Lie. The second book in the Strickland Files series is a bona-fide winner. The suicide of a country music mega-star, the attempted murder of his son and the subsequent violent death of his ex-wife complicate this seemingly straightforward plot. It will keep you on the edge of your seat - WHO really killed Don Willy... And why?