Surviving in the New America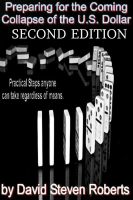 Preparing for the Coming Collapse of the U.S. Dollar
A Perfect Storm of a combination of hyper-inflation and the devaluing of the US Dollar is coming. Most books on this topic focus on WHY the collapse is coming. THIS book focuses on what you can do about it. For those who don't have the funds to invest in silver, gold, or other things, this book will give you practical step by step directions on how to procure food, water, and energy.
Our Dual Citizenship
Today, America is at a crossroads where in one direction is a godless Socialist agenda and in the other is the restoration and return to the principles that guided the founders and authors of the Constitution.