Valinthia Saga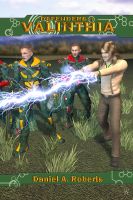 Defenders of Valinthia
A world where magic reigns finds itself at war with a universe dominated by science. This conflict won't be won by the humans alone. Valinthia holds more to its mysteries than a functioning magic. Changelings and their love for chaos sign up. Pixies and gnomes learn to get along! Sleeping dragons stir during their rejuvenating slumber. Battle lines are drawn as the conflict begins!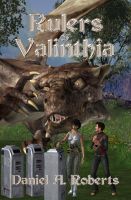 Rulers of Valinthia
With the war won, Valinthia's truce between good and evil is clearly at an end. Aided by renegade changelings, Raphael's necromancy flourishes unhindered on Galactopolis. The Rulers of Valinthia struggle to prevent the spread of infectious evil to the rest of the galaxy, and to save the life of one of their own.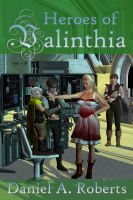 Heroes of Valinthia
During the ceremony to dedicate the brand new starport from Galactopolis, our Heroes are visited by the Zarg Empire. Offered friendship quickly turns to subterfuge and treachery. With the world's most powerful sorcerer and seer vanishing, can the Heroes of Valinthia prevail? The epic fight for survival begins now!