Laetitia la petite sirène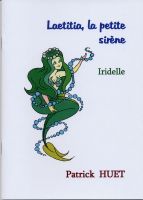 Laetitia, the little mermaid - Laetitia, la petite sirène
Nothing differentiated Laetitia from the other little girls of her age. Nothing, absolutely nothing. Yet, the river is her friend and at its contact a very strange metamorphosis takes place. Will that power be enough to save Iridelle, a green-haired sylphid ? That's maybe what Laetitia wonders by dashing, brisker than a flash, in the blue turquoise of the river.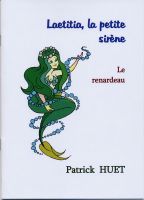 Laetitia La Petite Sirène - Le Renardeau
Ce printemps-là, Laetitia était invitée avec ses parents chez un de leurs amis qui avait acheté une immense propriété. Mais cet ami avait aussi une autre particularité, il collectionnait les animaux sauvages, surtout les bêtes féroces. Gare à quiconque s'aventurerait hors de la zone protégée !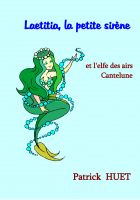 Laetitia La Petite Sirène - Et L'Elfe Des Airs Cantelune
Cette année-là, Laetitia passait ses vacances dans un très vieux château, plein de salles et de passages anciens. Des vacances merveilleuses, pensait-elle en s'amusant. Sauf que, dès la première nuit des gémissements étranges la réveillent. Même le gardien se comporte bizarrement. Elle ne s'attendait pas à autant de mystères.