Do you spook German?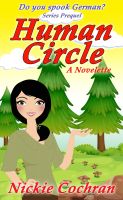 Human Circle - A Novelette
Pete, an anthropologist whose specialty is debunking sightings of mythical creatures, didn't believe in fairies. When a beautiful woman, claiming to be a fairy princess on the run from her power-hungry fiancé, literally falls into his arms just outside of a fairy circle in Ireland, he begins to question his beliefs. Against his better judgment, he agrees to help her. He shouldn't have.
The Heidelberg Ghost - A Romantic Comedy (Do You Spook German? Series - Book 1)
***A MODERN DAY FAIRY-TALE THAT'LL MAKE YOU FORGET YOU HAD DINNER COOKING ON THE STOVE.*** Fall in love with the charming and quirky characters in this fun paranormal romance and adventure, as Andrea and her friends go on a quest to set Volker free from his ghostly demise. This story is set in Germany, with its rich history and traditions - Ireland is not the only place with cool castles, ya know