Matt Daly's Adventures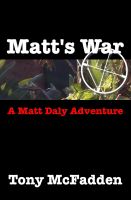 Matt's War
All Matt wanted to do was build his telecommunications consulting business in Asia-Pacific - until he interrupted a highjacking on a flight from Singapore. Other people have plans for him now, and his life will never be the same. Hundreds of lives depend on Matt's actions in this international thriller spanning Malaysia to Australia, and north to Taiwan.
Daly Battles: The Fall of Pyongyang
It's all fun and games until you piss off the Supreme Commander. Matt Daly and his friend and business partner George Sahin are in Pyongyang, hired by its young leader, Kim Jong-un, to modernise and expand the local mobile phone network. Then a Twitter-fed revolution and a military uprising have them racing against time to prevent a hell Asia hasn't seen in seventy years.