The Tate Chronicles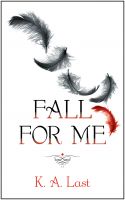 Fall For Me (The Tate Chronicles #1)
A battle is raging... Blood will be shed... Lives will be lost... And friendships will be tested. One angel's decision will change everything... And one vampire's secret will tear them all apart.
Sacrifice (The Tate Chronicles #0.5)
Forbidden love... Broken Hearts... And a decision that will change everything. What would you sacrifice for the one you love? Sacrifice is a 23,000 word prequel to Fall For Me. It tells the story of Grace and Seth, and what happened in that castle. It is meant to be read after Fall For Me, although it can be read first...