Brotherhood of the Throne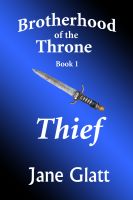 Thief
Book 1 - Brotherhood of the Throne - When Duke Thorold murders her mother,Brenna Trewen flees to Kingsreach. She's caught stealing from the Church of the One-God and comes to the attention of Kane Rowse,a senior member of the Brotherhood of the Throne. The Brotherhood is convinced that Brenna is the one prophesied – the one they have secretly waited two millennia for. Can they convince Brenna?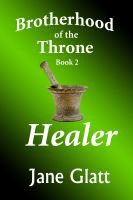 Healer
Book 2 Brotherhood of the Throne- After escaping Duke Thorold, Brenna is granted refuge in Aruntun, where she learns to use her emerging magical abilities. News that her grandmother is alive sends Brenna and Kane to the Godswall Mountains, where she is indentured as a healer. Once safe,they learn that Duke Thorold has taken control of the kingdom. How can Brenna and the Brotherhood oppose him?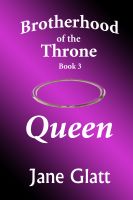 Queen
Book 3 – Brotherhood of the Throne - Brenna never wanted to be queen, but only she can stop Duke Thorold and the Church of the One-God. Refugees are fleeing Duke Thorold and the church - others are being rounded up and sent to the mines as slaves. Brenna has to save them. When Kane is captured she can feel his pain through old steel. She has to save him as well. And stop Thorold once and for all.