Songs from the Seashell Archives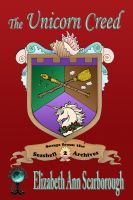 The Unicorn Creed
In Song of Sorcery, Book 1 of Songs from the Seashell Archives, hearthwitch Maggie Brown met minstrel Colin Songsmith and a unicorn named Moonshine while saving both her sister and the kingdom. All in a quest's work for a girl who can magically do anything she can convince her power is housework. To reward Maggie, the king makes her a princess . . .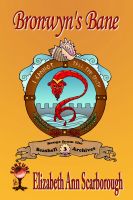 Bronwyn's Bane
As if it wasn't bad enough already that because of her frost giant heritage from her father the king's side of the family she was 6 feet tall when she was only 12 years old, poor Princess Bronwyn (the Bold) of Argonia was cursed at birth to tell nothing but lies. With her father away at war and her mother heavily pregnant, Bronwyn is even more in the way than usual, so she gets packed off.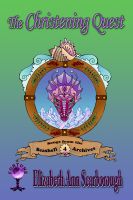 Christening Quest
Going on a quest with a handsome prince might sound like a dream, but Prince Rupert's cousin Carole comes to feel it isn't all it's cracked up to be. Carole agrees to accompany her hunky cousin to Miragenia to christen his baby niece. But it is really hard to even explain the situation to anyone; how the little Princess was stolen from her mother's side by Miragenians . . .