Keepers of the Kingdom Chronicles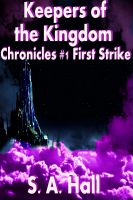 Keepers of the Kingdom Chronicles #1 First Strike
Ryder, a man from the old war has appeared back in the land after 500 years. The Shadow has grown in power and is returning to the land. The Elementals know of the evil coming back to the lands but have chosen to stay out of the fight again. Ryder and Aya, an Elemental girl, leave from the Elementals island and go to seek out this threat and determine its power.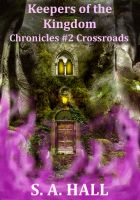 Keepers of the Kingdom Chronicles #2 Crossroads
Ryder and Aya have survived the first strike wave and made it to the mainland. Only once there they discover The Shadows presence is ahead of them. They are met with a new foe and Aya finds herself having to become something more than she believed possible. The Race Council must determine whether they want to believe that The Shadow is really back and Ryder fights with his past.