Wolves of Solomon
The Wolves of Solomon (Wolves of Solomon Book One)
England, 1307. . . Templar Knight Galeren de Massard is sent to investigate an incident where a nun claims to have been attacked by "a man who became a wolf." When Galeren meets Catherine, he instinctively knows that her attacker was Esquin de Floyran and that his return is dangerous for the increasingly unpopular Templar Order. A supernatural tale revolving around the fall of the Templars.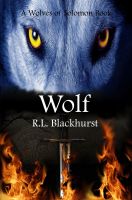 Wolf (Wolves of Solomon Book Two)
France, 1311 . . . Raymond Caradas, more wolf than man, is outcast since betraying his former master to save the Templar brethren from the French King's fires. About to commit a diabolical act, he is prevented by she-wolf Kit, who has sought him out for a purpose. Drawn to her, Caradas is pulled back into the Templar struggle to face new enemies determined to destroy the supernatural knights.