Bloodmoon Cove Spirits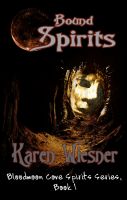 Bloodmoon Cove Spirits Series, Book 1: Bound Spirits
Don't close your eyes Nestled on Lake Superior in northern Wisconsin is a small, secluded town called Bloodmoon Cove with volatile weather, suspicious folk...and newly awakened ghosts bent on revenge. Esmeralda "Esme" Dumas comes to the town looking to find work surrounded by wide-open nature, and most of all looking for a place to hide.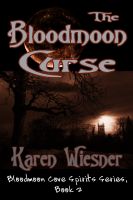 Bloodmoon Cove Spirits Series, Book 2: The Bloodmoon Curse
An unsuspecting nurse is lured to an ancient family mansion said to hold both ghosts and horrifying secrets in order to care for three orphaned children. Amberlyn Lyons has recently suffered a devastating miscarriage that has torn her marriage apart and shaken her faith. She quietly takes a nanny position at an isolated mansion in Bloodmoon Cove without electricity, telephone, or ease of passage.