Butch Domme, Femme Slut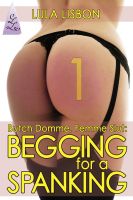 Begging For A Spanking (Lesbian BDSM Voyeur Strap-On Erotica)
After realizing her burning attraction for other women, beautiful young Jenna is searching for The One. She loves being romanced, but she knows she needs much more from life: a merciless spanking, domination, and lots of good, hard sex. Will the older butch power-dyke she met online be able to give her what she's always been craving?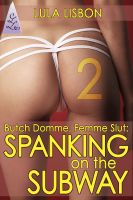 Spanking on the Subway (Dubcon Lesbian BDSM Public Voyeur Erotica)
Pretty femme Jenna and older butch Ruby have a date tonight, but Jenna's stuck late running errands for work. When an intimidating leather dyke catches her secretly masturbating while waiting for the subway, she runs away in embarrassment. But what will happen to Jenna's sweet young backside when the dyke finds her again on the subway after rush hour?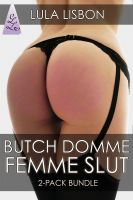 Butch Domme, Femme Slut (2-Pack Bundle) (Dubcon Lesbian BDSM Strap-On Voyeur Erotica)
The first two installments of the popular lesbian BDSM series "Butch Domme, Femme Slut" in a discount bundle! Get nearly 10,000 words of deliciously naughty erotica at a bargain price! Warning: ADULTS ONLY. All characters are over 18. Contains romance, masturbation, spanking, BDSM, voyeurism, humiliation, public sex, and much more!