Nyx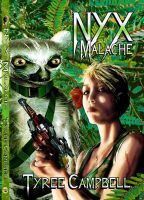 Nyx: Malache
Nyx is a Blacklight assassin, ordered to the tropical world of Malache to kill a courier. Given a minimal briefing, she kills the wrong person. Back to make amends, she finds herself in the middle of a war where both sides want her dead. Her only allies are the lemuroid, pacifist, sexually-tilted natives. To win, Nyx has to recover her lost femininity, and make the coldest sacrifice of all.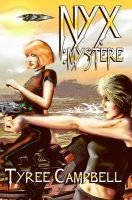 Nyx: Mystere
Nyx is ordered to find and kill Mystere, a bomb-maker. At a blast site she meets an amnesiac, Zinc, who may possess info about Mystere, if she could be made to remember. Meanwhile, intrigue at Blacklight Section finds Deven replaced with a double, and rogue agents have been sent to turn Nyx or kill her. Isolated, Nyx is under impossible orders...until a surprise from her past shows up.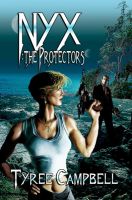 Nyx: The Protectors
A corporate hierarch is en route to Adenne, and Nyx has been ordered to protect him from environmental demonstrators. A top-ranked assassin is also on Adenne, contracted to kill both Nyx and the hierarch. With the local police and the protesters pitted against her, Nyx's only ally might be the assassin who would kill her.