Real Man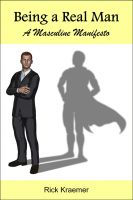 Being a Real Man: A Masculine Manifesto
Males are bombarded with conflicting and confusing messages about masculinity from the media, friends, parents, school and work. This short booklet explains the surprising true nature of masculinity – a real man takes care of the responsibilities placed on him by society and his own commitments. It explains what men do that isn't manly, how to spot true masculinity, and how to be a real man.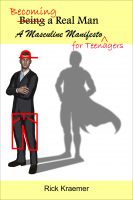 Becoming a Real Man: a Masculine Manifesto for Teenagers
As a teenage male, are you a man or a boy? You're on your way to being a man, but how do you actually become a man? The truth is that you become a man when you behave like a man. So how do men behave? This booklet, based on Rick Kraemer's "Being a Real Man: a Masculine Manifesto," explains the responsible ways a real man acts, so you can learn how to become a real man.