Children's Stories by Kaye Edwards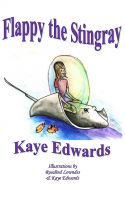 Flappy the Stingray
a little girl, befriends a stingray on the beach.flappy invites stella to go for a ride.blows a huge bubble & stella climbs in. off they go under the sea & meet all creatures. ozzie the octopus gets stuck under a beam in a wreck.flappy helps.stella waits on a island while the rescue takes place. stella meets more creatures on shore. flappy takes her back to the main land to her mother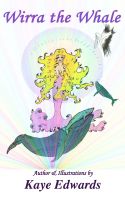 Wirra the Whale
a story about a whale ready to have her new calf & becomes caught in a fisherman's net.she is then helped by the pelicans & a sea goddess. the story is passed down through the years that the pelicans go to the beautiful goddess's resting place,call her & she will rise. she helps all sea creatures when in trouble. the calf is born & she releases wirra from the net. this is a beautiful fairy tale.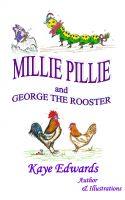 Millie Pillie and George the Rooster
millie is a little caterpillar who lives in the vegetable garden. she is picked up with a lettuce and taken to the kitchen and nearly chopped up. then later is thrown into the scrap bucket and taken to the chook house and tipped to the ground. george the rooster finds millie and squashes her. she bites him and he lets go. she hurries off to her little home and is safe.